Recently I was listening to a Piper sermon and heard him reference something called
The Voice of the Martyrs
. Curious, I checked it out and found that they are an international, nondenominatinal organization that helps persecuted Christians and is committed to educating the world about their sufferings as well as fulfill the Great Commission. So I signed up for their weekly email updates to know how I could pray for the persecuted Christians. Sometimes I do pray for them when I get the email...sometimes, sadly, I say I'll come back to it and then don't. I forgot that by signing up I would also receive the free newsletter in the mail. After pulling it out with a bunch of smaller fliers, I was kind of shocked at the picture I saw on the cover. There's one man sitting in rubble who looks as if he's been beaten, blood dripping from his face, being held by another guy who is catching the blood on a towel. It was obvious that for this edition they weren't going for the cheesy, feel-good Christian cover.
As I browsed through the newsletter and fliers, one in particular caught my eye. There was a Sudanese boy on the front, wrapped in a white blanket. The caption beside him read: "If this were Jesus, would you give Him your blanket?"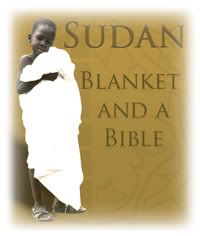 On the inside were three stories of Christian Sudanese young people who had been persecuted by Islamic soldiers because of their faith. It was hard seeing their pictures- one was burned from head to toe. One had huge scars across her chest. One had been nailed to a board and left to die. My first instinct was to look away. That uneasy feeling was creeping up. But then I felt compelled by the Spirit to look again. To see their faces. To know their names. I felt like the Spirit was reminding me that this is reality. Things like this are happening everyday around the world whether I wanted to know it or not. And I really felt like I needed to take action. I know I can't change the world, but I want to do something. And that's where the catchy phrase "blanket and a bible" comes in.
VOM has been in Sudan for the last ten years, delivering medical care, Sudan Life Packs, Scripture and pastoral training. Their current outreach is asking American Christians to send good quality, new or used blankets along with $2.00 (per blanket) -that covers the cost of shipping and an illustrated Bible storybook that will be delivered with each blanket. For the Sudanese, a simple blanket means a good night's rest. A means of shade during the day. A way to carry an infant or their few possessions. At first, I was just going to ask my friends and family if they'd donate, but Josh encouraged me to include our blogging family too. If you'd like to contribute, you can do one of two things:
1) send me an email at blanketsforsudan@gmail.com and I'll let you know how you can get it to me.
or
2) send it directly to VOM at:
VOM- Blankets of Love
510 West Adeline
Bartlesville, OK 74003 (don't forget to include $2 per blanket)
This is a great opportunity to make a difference, but please don't feel guilted into it. And please remember to be praying for our brothers and sisters in Christ who are facing persecution because of their faith.
Here's a couple of links where you can find out more on:
the genocide in Darfur (a region of Sudan)
Blanket and a Bible Outreach